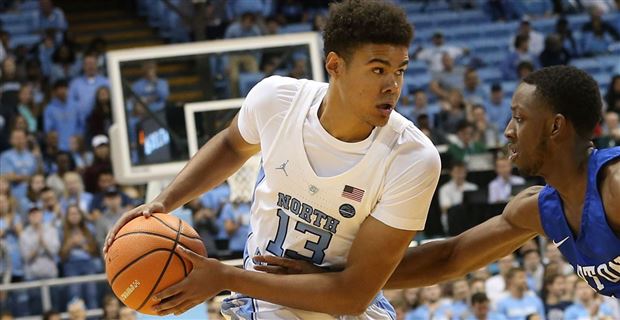 Graduate transfer Cameron Johnson injured from frustrating defeat by Theo Pinson in NBA 2K18. Pinson has struck twice now, causing Joel Berry II to sit out almost a month ago. (Photo: Jim Hawkins/Inside Carolina)
CHAPEL HILL, N.C. – Hours before North Carolina guard Joel Berry II returned to play against Bucknell Wednesday, guard Cameron Johnson went into surgery after suffering a torn meniscus in his left knee.
The cause of Berry missing four weeks, and now Johnson for a potential 4-6, is one in the same: NBA 2K18.
The graduate transfer from Pittsburgh apparently lost a game against teammate Theo Pinson, a senior forward, and then released his frustration by kneeing a wall.
"I'm not proud of owning Joel and now Cam, knowing my actions led them to miss these early weeks. I mean, I can't help that I'm that good," Pinson tweeted yesterday.
Pinson also played Berry before his injury almost a month ago. The senior wing won with the Golden State Warriors to Berry's Cleveland Cavaliers. Johnson apparently took the same route.
The difference was in the loss. Johnson's style differed slightly than Berry's, who had punched a door, breaking a bone in his right hand.
"I don't really know what compelled my knee to fly like that," Johnson said. "And I don't know why 2K just hands the game over to people."
Head coach Roy Williams was disappointed as well: "They both did a silly thing," he said at an announcement Wednesday. "But if you're at Carolina, you're competitive. That's for sure."
Due to an unrelated sprained neck, Johnson also missed the season opener on Nov. 10 against Northern Iowa. Perhaps from an intense focus on the screen.
"He may be new to us and is taking time off the court, but I'm confident we have a good player here," Williams said. "I just need to get my boys off that dadgum box-station."
Johnson started every game for the Panthers last season, averaging 11.9 points, 4.5 rebounds and 2.3 assists in more than 33 minutes a game.
---
This satirical piece was originally for VICE Sports, but has not appeared there.